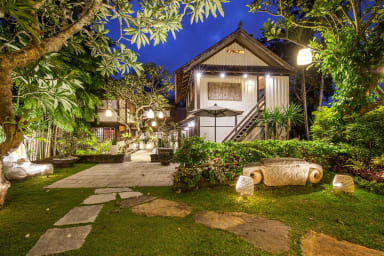 Sumptuous & Unique 6 bedroom Wooden Luxury Villa right next to Seminyak
The space
Villa Sembunyi is a unique wonderfull wooden property, ideally located in Jalan Umalas I, only minutes away from Seminyak and all its shops, bars & restaurants.
The property, made entirely out of wood, consists of a spacious living area with a pool table, a fully equipped kitchen (perfect to cook, or have a private chef cook for you, any kind of meals!), and 6 bedrooms.
When traveling, guests looks especially for nice beds to sleep in. You will find what you are looking for at Villa Sembunyi, as the beds are the best quality you can find on the market. Every bedroom is equipped with the best quality beds, its own closet, a safety box, and a private en-suite bathroom.
Outside, you will discover a very large land filled with luxuriant tropical vegetation, a wonderful lotus pond, and the amazing private swimming pool of the villa (up to 2.6m deep!)
All the high quality furniture has been carefully handpicked by the previous owner of the villa, a very known dutch antiquarian, that has left his marks all around the property.
Finally, Villa Sembunyi is the perfect place for any families, or group of friends, looking for a truly unique villa to stay at while being close from Seminyak and its shops, restaurants and bars.
Guest access
Guest have access to the entire property.
The neighborhood
Tucked away in the still quiet part of Umalas (Kerobokan, Badung), one can find the private retreat Villa Sembunyi ('sembunyi' means 'hidden' in the Indonesian language).
Although Umalas has become increasingly sought-after as a place of residence, it is still a quiet place close to the bustling and busy tourist region of South Bali (Kuta, Legian and Seminyak). Villa Sembunyi is 35minutes by car from Ngurah Rai International Airport and is located only 2 kilometres from the Beach of Batubelig.
Other things to note
Included in every stay:
-Free welcome drink
-Villa's staff with daily cleaning 6 days per week, and pool & garden maintenance 2/3 times per week
-Bath & Pool towels for each guests
-Hi Speed Wifi internet connection
-Mobile phone for local calls
-Safety boxes in each bedrooms
-Concierge Services
Available upon request through our exclusive Concierge services:
-Airport transfer
-Car rental (with/without driver)
-Bike rental
-Breakfast upon request
-Private cook
-Massages at the villa
-Babysitting services
-Laundry
-Restaurant bookings
-Activities such as watersports, surf classes, cooking classes, water parks…
-Daily tours to visit temples, landscapes, villages…
-And much more! Don't hesitate to ask us if you want to do some activities or visits while enjoying your stay at our villa!
+ More
Less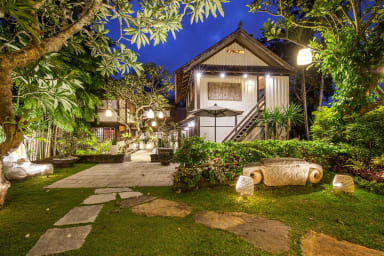 Villa Sembunyi | 5 bedroom private luxury villa rental next to Seminyak Bali
Villa Sembunyi | 5 bedroom private luxury villa rental next to Seminyak Bali
Villa Sembunyi | 5 bedroom private luxury villa rental next to Seminyak Bali
Villa Sembunyi | 5 bedroom private luxury villa rental next to Seminyak Bali
Villa Sembunyi | 5 bedroom private luxury villa rental next to Seminyak Bali
Villa Sembunyi | 5 bedroom private luxury villa rental next to Seminyak Bali
Villa Sembunyi | 5 bedroom private luxury villa rental next to Seminyak Bali
Villa Sembunyi | 5 bedroom private luxury villa rental next to Seminyak Bali
Villa Sembunyi | 5 bedroom private luxury villa rental next to Seminyak Bali
Villa Sembunyi | 5 bedroom private luxury villa rental next to Seminyak Bali
Villa Sembunyi | 5 bedroom private luxury villa rental next to Seminyak Bali
Villa Sembunyi | 5 bedroom private luxury villa rental next to Seminyak Bali
Villa Sembunyi | 5 bedroom private luxury villa rental next to Seminyak Bali
Villa Sembunyi | 5 bedroom private luxury villa rental next to Seminyak Bali
Villa Sembunyi | 5 bedroom private luxury villa rental next to Seminyak Bali
Villa Sembunyi | 5 bedroom private luxury villa rental next to Seminyak Bali
Villa Sembunyi | 5 bedroom private luxury villa rental next to Seminyak Bali
Villa Sembunyi | 5 bedroom private luxury villa rental next to Seminyak Bali
Villa Sembunyi | 5 bedroom private luxury villa rental next to Seminyak Bali
Villa Sembunyi | 5 bedroom private luxury villa rental next to Seminyak Bali
Villa Sembunyi | 5 bedroom private luxury villa rental next to Seminyak Bali
Villa Sembunyi | 5 bedroom private luxury villa rental next to Seminyak Bali
Villa Sembunyi | 5 bedroom private luxury villa rental next to Seminyak Bali
Villa Sembunyi | 5 bedroom private luxury villa rental next to Seminyak Bali
Villa Sembunyi | 5 bedroom private luxury villa rental next to Seminyak Bali
Villa Sembunyi | 5 bedroom private luxury villa rental next to Seminyak Bali
Villa Sembunyi | 5 bedroom private luxury villa rental next to Seminyak Bali
Villa Sembunyi | 5 bedroom private luxury villa rental next to Seminyak Bali
Villa Sembunyi | 5 bedroom private luxury villa rental next to Seminyak Bali
Villa Sembunyi | 5 bedroom private luxury villa rental next to Seminyak Bali
Villa Sembunyi | 5 bedroom private luxury villa rental next to Seminyak Bali
Villa Sembunyi | 5 bedroom private luxury villa rental next to Seminyak Bali
Villa Sembunyi | 5 bedroom private luxury villa rental next to Seminyak Bali
Villa Sembunyi | 5 bedroom private luxury villa rental next to Seminyak Bali
Villa Sembunyi | 5 bedroom private luxury villa rental next to Seminyak Bali
Villa Sembunyi | 5 bedroom private luxury villa rental next to Seminyak Bali
Villa Sembunyi | 5 bedroom private luxury villa rental next to Seminyak Bali
Villa Sembunyi | 5 bedroom private luxury villa rental next to Seminyak Bali
Villa Sembunyi | 5 bedroom private luxury villa rental next to Seminyak Bali
Villa Sembunyi | 5 bedroom private luxury villa rental next to Seminyak Bali
Villa Sembunyi | 5 bedroom private luxury villa rental next to Seminyak Bali
Villa Sembunyi | 5 bedroom private luxury villa rental next to Seminyak Bali
Villa Sembunyi | 5 bedroom private luxury villa rental next to Seminyak Bali
Villa Sembunyi | 5 bedroom private luxury villa rental next to Seminyak Bali
Villa Sembunyi | 5 bedroom private luxury villa rental next to Seminyak Bali
The Space
Accommodates: 12-16
Bedrooms: 6
Bathrooms: 6
Property Type: Villa
Check-in: 15:00
Check-out: 11:00
---
Amenities
Babysitter recommendation

Cleaning and disinfection

Extra pillows and blankets

Laptop Friendly Workspace

Long Term Rentals Available

Suitable for children (2+ years old)

Suitable for infants (under 2 years)
Reviews
Anita K.

Lovely villa for big groups

Pros: Spacious, serene villa, looks just like pictures Great for large groups, so many spots around inside & outside, will never feel crowded Responsive & helpful host Kind & helpful on site staff Things to note : Wasn't cleaned so well on arrival, surfaces quite dusty, kitchen appliances not cleaned well, kettle full of ants, towels given were cleaned but very stained. Though once i mentioned cleaning to staff, clean next day was much better! Location not ideal if want to get to canngu in evening, lots of traffic, takes 45min -1 hour Very outdoor/indoor concept with rooms very spread out, something to think about if travelling with young children

April 2023

---

Kerrie S.

A MASTERPIECE

Such an incredible Villa. Our family stayed a few nights on our arrival into Bali for New Years Eve and onto Ubud for our wedding. So much bigger than expected. The whole garden area, pool and Villa beside the river was perfect in every way. I am an interior designer and I can tell you I couldn't stop admiring this masterpiece. Incredible

January 2023

---

Debbie H.

Amazing stay!

Amazing stay at this place. Clean. Spacious. Comfortable. Beautifully decorated. Lovely Yoga space and nice pool. Excellent kitchen amenities. Very helpful staffs. We will be back.

August 2022

---

Shelly F.

Villa sembunyi

Everything went perfectly!

August 2022

---