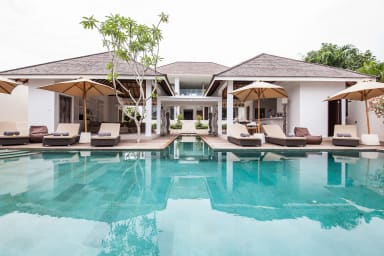 Take a Seat in the Lap of Luxury on the Island of Gods at this 6 bedroom private villa.
The space
Villa Bali Sari is truly one of the jewels of Bali.
This amazing luxury property offers everything a big group of travelers or family can request for a sumptuous stay on the island of the gods.
The Villa's staff, manager and concierge will assist you throughout your stay if you need anything.
Each of the 6 bedrooms is equipped with a king size bed, a dressing with safety box, and its own private en-suite bathroom.
The living area, fully open onto the garden, is as spacious as the villa itself.
The kitchen is fully equipped, ideal if you want to cook (or have the villa's staff cook for you) any kind of meal!
Finally, the huge swimming pool and all the sunbeds next to it are ideal for you to relax after a long day out shopping or discovering the island.
Villa Bali Sari is truly your perfect nest of paradise for your stay in Bali.
Guest access
By booking Villa Bali Sari, guests will have access to the entire property.
The neighborhood
Villa Bali Sari is located in the quiet and peaceful neighborhood of Canggu. It's only 10 minutes to Echo Beach and 15 to the Canggu Club. The busy streets of Seminyak and its many shops, restaurants, and bars are within half an hour.
Other things to note
Included in every stay:
-Free welcome drink for any stays
-Villa's staff with daily cleaning Monday to Saturday, and pool & garden maintenance 2/3 times per week
-Bath & Pool towels for each guests
-Hi Speed Wifi internet connection
-Mobile phone for local calls
-Safety boxes in each bedrooms
-Concierge Services
-Security at night
Available upon request through our exclusive Concierge services:
-Breakfast upon request (free service, you would just pay for the necessary groceries)
-Car rental (with/without driver)
-Bike rental
-Private cook
-Massages at the villa
-Babysitting services
-Laundry
-Restaurant bookings
-Activities such as water sports, surf classes, cooking classes, water parks…
-Daily tours to visit temples, landscapes, villages…
-And much more! Don't hesitate to ask us if you want to do some activities or visits while enjoying your stay at our villa!
+ More
Less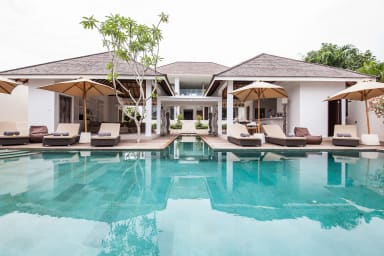 Villa Bali Sari | 6 bedroom private luxury villa in Mengwi Canggu Bali
Villa Bali Sari | 6 bedroom private luxury villa in Mengwi Canggu Bali
Villa Bali Sari | 6 bedroom private luxury villa in Mengwi Canggu Bali
Villa Bali Sari | 6 bedroom private luxury villa in Mengwi Canggu Bali
Villa Bali Sari | 6 bedroom private luxury villa in Mengwi Canggu Bali
Villa Bali Sari | 6 bedroom private luxury villa in Mengwi Canggu Bali
Villa Bali Sari | 6 bedroom private luxury villa in Mengwi Canggu Bali
Villa Bali Sari | 6 bedroom private luxury villa in Mengwi Canggu Bali
Villa Bali Sari | 6 bedroom private luxury villa in Mengwi Canggu Bali
Villa Bali Sari | 6 bedroom private luxury villa in Mengwi Canggu Bali
Villa Bali Sari | 6 bedroom private luxury villa in Mengwi Canggu Bali
Villa Bali Sari | 6 bedroom private luxury villa in Mengwi Canggu Bali
Villa Bali Sari | 6 bedroom private luxury villa in Mengwi Canggu Bali
Villa Bali Sari | 6 bedroom private luxury villa in Mengwi Canggu Bali
Villa Bali Sari | 6 bedroom private luxury villa in Mengwi Canggu Bali
Villa Bali Sari | 6 bedroom private luxury villa in Mengwi Canggu Bali
Villa Bali Sari | 6 bedroom private luxury villa in Mengwi Canggu Bali
Villa Bali Sari | 6 bedroom private luxury villa in Mengwi Canggu Bali
Villa Bali Sari | 6 bedroom private luxury villa in Mengwi Canggu Bali
Villa Bali Sari | 6 bedroom private luxury villa in Mengwi Canggu Bali
Villa Bali Sari | 6 bedroom private luxury villa in Mengwi Canggu Bali
Villa Bali Sari | 6 bedroom private luxury villa in Mengwi Canggu Bali
Villa Bali Sari | 6 bedroom private luxury villa in Mengwi Canggu Bali
Villa Bali Sari | 6 bedroom private luxury villa in Mengwi Canggu Bali
Villa Bali Sari | 6 bedroom private luxury villa in Mengwi Canggu Bali
Villa Bali Sari | 6 bedroom private luxury villa in Mengwi Canggu Bali
Villa Bali Sari | 6 bedroom private luxury villa in Mengwi Canggu Bali
Villa Bali Sari | 6 bedroom private luxury villa in Mengwi Canggu Bali
Villa Bali Sari | 6 bedroom private luxury villa in Mengwi Canggu Bali
Villa Bali Sari | 6 bedroom private luxury villa in Mengwi Canggu Bali
Villa Bali Sari | 6 bedroom private luxury villa in Mengwi Canggu Bali
Villa Bali Sari | 6 bedroom private luxury villa in Mengwi Canggu Bali
Villa Bali Sari | 6 bedroom private luxury villa in Mengwi Canggu Bali
Villa Bali Sari | 6 bedroom private luxury villa in Mengwi Canggu Bali
Villa Bali Sari | 6 bedroom private luxury villa in Mengwi Canggu Bali
Villa Bali Sari | 6 bedroom private luxury villa in Mengwi Canggu Bali
Villa Bali Sari | 6 bedroom private luxury villa in Mengwi Canggu Bali
Villa Bali Sari | 6 bedroom private luxury villa in Mengwi Canggu Bali
Villa Bali Sari | 6 bedroom private luxury villa in Mengwi Canggu Bali
Villa Bali Sari | 6 bedroom private luxury villa in Mengwi Canggu Bali
Villa Bali Sari | 6 bedroom private luxury villa in Mengwi Canggu Bali
Villa Bali Sari | 6 bedroom private luxury villa in Mengwi Canggu Bali
Villa Bali Sari | 6 bedroom private luxury villa in Mengwi Canggu Bali
Villa Bali Sari | 6 bedroom private luxury villa in Mengwi Canggu Bali
Villa Bali Sari | 6 bedroom private luxury villa in Mengwi Canggu Bali
Villa Bali Sari | 6 bedroom private luxury villa in Mengwi Canggu Bali
Villa Bali Sari | 6 bedroom private luxury villa in Mengwi Canggu Bali
Villa Bali Sari | 6 bedroom private luxury villa in Mengwi Canggu Bali
Villa Bali Sari | 6 bedroom private luxury villa in Mengwi Canggu Bali
Villa Bali Sari | 6 bedroom private luxury villa in Mengwi Canggu Bali
Villa Bali Sari | 6 bedroom private luxury villa in Mengwi Canggu Bali
Villa Bali Sari | 6 bedroom private luxury villa in Mengwi Canggu Bali
The Space
Accommodates: 12
Bedrooms: 6
Bathrooms: 6
Property Type: Villa
Check-in: 15:00
Check-out: 11:00
---
Amenities
Babysitter recommendation

Cleaning and disinfection

Extra pillows and blankets

Laptop Friendly Workspace

Long Term Rentals Available

Suitable for children (2+ years old)

Suitable for infants (under 2 years)
Reviews
Nancy R.

Amazing House

We had such an amazing time in this house, it was beautiful! From the entrance to the rooms to the exterior and the amazing views, we'd definitely stay there again. The concierge was very nice and friendly and the host was very easy to contact. Definitely recommend this place 10/10!

October 2022

---